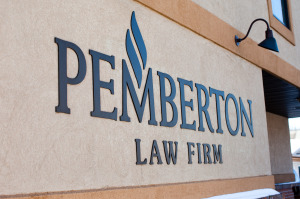 Spend a day in any of our four offices and you will see employees of all ages and experience levels working in all different types of law. Here at Pemberton, we are proud of the longevity of our employees who range in experience from five to 53 years. It has been said that people stay here because there is never a dull moment and they are continually challenged.
Attorney: Attorneys at Pemberton experience incredible benefits. Not only are the attorneys associated with a well-established and successful law firm, but they also are mentored by a Senior Partner during the beginning of their career. Currently, we have 20 licensed attorneys who range in experience from 6 months to 53 years.
Paralegal/Legal Assistant: 
We consider our legal staff to be the "right hand" of the attorney. Most paralegals and legal assistants work with a specific attorney and have a broad base of knowledge in specific fields. We have 16 legal assistants who range in experience from five years to forty years.
Legal Secretary/Administrative Assistant
: Most of our legal assistants started at the firm as legal secretaries. This position is the building block of our firm and is the best way to learn the processes by which we run our business. A few of the legal secretary duties include transcription, scanning documents, and organizing and maintaining both paper and electronic client files.
Summer Associate:
 Pemberton Law takes pride in our summer associate program. Every summer since the 1960s, we employ law school students to gain experience as they go into their last year of law school in addition to being mentored by our attorneys. Before we employ a summer associate, we decide if that candidate has Pemberton potential. Currently, roughly 75% of our attorneys were once summer associates.
A few words from our previous summer associates:
"Experience is the most important thing to have when trying to find a job after law school, and working as an associate at Pemberton was a great way to learn."
"You learn things that could never be taught at law school, and the exposure you get here is amazing."
"I've enjoyed the interaction I've had with all the attorneys. They were always available and open to questions when we needed them."
"There was a large difference between working in Fergus Falls compared to the twin cities. The large law firms in the cities can treat clerks with soft gloves, but at Pemberton, we learned by working directly with the cases. Most firms in Minneapolis wouldn't have given the client exposure we had in Fergus Falls."
Summer Intern: Over the summers, we employ one or two college students who have aspirations of going to law school. We believe it is vital, especially with offices in smaller communities, to provide a job for students that want to experience working in a law firm. The summer intern duties include shadowing attorneys in trials, hearings, and depositions, working with the legal staff on document preparation, and researching legal projects.
"I could not help but reflect on the great experience that it was to work at the Pemberton Law Firm over the summer. All of the employees at the Fergus Falls office were professional, cooperative, helpful and productive during my employment period. The firm is simply committed to hiring quality people committed to hard work and cooperation. Not only were my questions answered thoroughly by lawyers and staff alike, but I felt like I could return for more advice when the time came. I always felt like part of the team, and everyone I worked with was as approachable. More than anything, Pemberton law has given me a favorable view of the practice of law. Whether or not I choose to embark on a law-related field, I feel the knowledge and perspective I gained working at Pemberton law firm was invaluable."